A mild climate, a beach, colourful cobblestones wherever you look, the tinkling of approaching trams, a magnificent bridge and then steep, VERY steep streets. 
In other words, we were far from our flat country at the beginning of November. With a suitcase in hand and projects in our heads, we reached Lisbon in Portugal. Ahhhhhhh, the sun, the beautiful streets, the port, the pasteis de nata ... the good life!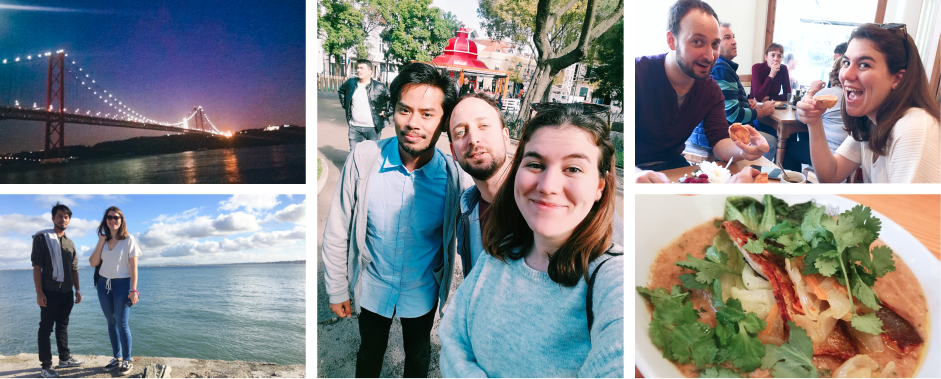 But contrary to appearances, we weren't there for fun. Because this year we had the chance to participate in the Web Summit!
The Web Summit? It's one of the world's most renowned annual events in the digital industry. It's 5 days of conferences, meetings, discoveries and exchanges on the latest digital technologies and innovations. In short, it's the place to be, and we were there!

" Web Summit is where the future goes to be born " 

- The Atlantic 
Beyond a dose of inspiration and meeting with some of the most interesting start-ups, the Web Summit was also an opportunity for us, Cherry Pulp, to present a project that we launched internally, Call Up! 
To explain this project, we have to go back a few years, to the beginning of the project, 3 years ago... 
It all started with a simple observation: the world is going badly. 
At Cherry Pulp, we have a strong ecological awareness, it is part of our daily concerns. And, being optimistic by nature, we have asked ourselves how we can contribute to a better world. We held workshops, explored ideas, made a list of issues, and one of them struck us more than others. 
All over the world, many people have great ideas for making the world a better place, but simply don't have the resources to make them happen.
Of course it speaks to you, because you recognize yourself in it, don't you? We see you and your friends remaking the world around revolutionary ideas. But what's become of them...? Lost? Forgotten? Left behind?
And now they're not! Because with the Call Up participative platform, all you need is an idea to start the movement. For a year now, the platform has been working to make all these forgotten ideas a reality. 
Its operation is very simple. You can be either a project leader or a collaborator, or both! 
A project leader is the one who is going to implement his revolutionary idea. It must be in line with our values, it can be an environmental, sustainable, citizen project. As long as it contributes to a better world. 
The resources necessary to make this idea a reality will then be brought in thanks to the contributors. They are volunteers who put their skills at the service of the project to which they want to contribute. The fields they cover are as broad as possible according to the needs of the project. This can be translation, marketing, help with an event, development of a website, graphic identity, etc.
Call Up creates a cooperative network and connects the right people with the right skills and above all the same convictions to bring to life projects that will make a difference in the world.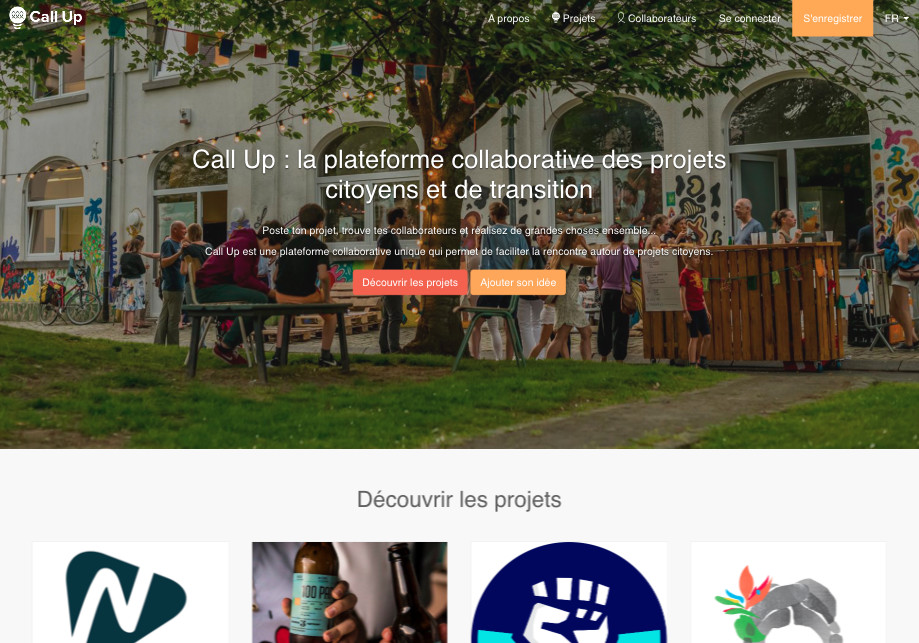 "Do it with purpose"
Our pride? See the involvement on the platform. Did you know that we have more volunteers than project leaders? Three times more people want to contribute and help projects than initiate them. In other words, we have a motivated community with a strong desire to contribute to the development of citizen projects! 
Call Up, remember this name because you're going to hear about it ...
The Web Summit was therefore an opportunity for us to present Call Up, our internal project, our participative project, our project of the heart. 
This very enriching experience allowed us to meet people, to exchange with project leaders, to give and receive precious advice that will contribute to the development of Call Up.
We also had the chance to benefit from a stand in the "philanthropy and social goods" section where we were able to present Call Up to many people.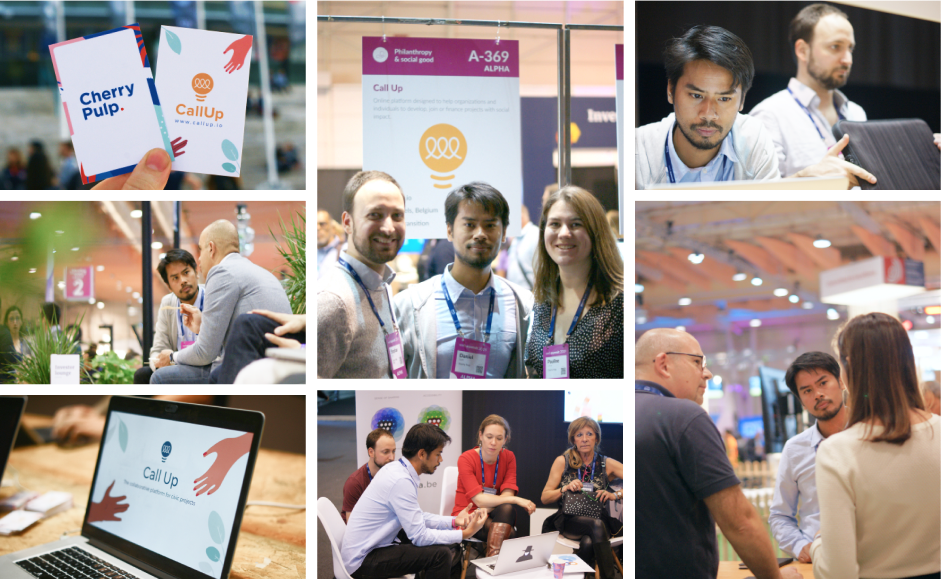 We were pleasantly surprised by the interest of the participants!
This allowed us to get rich and diversified feedback from young people active in the environmental sector, but also from university professors, HR consultants, investors and many other profiles.
It was with surprise that we noticed that people's interest in our platform was broader than we thought.
All of them were sensitive to our project. They see themselves using the platform, or at least recommend it to their friends and family.
What future for Call up? 
Call Up it's 97 social projects.
386 users and 138 matching between them.
These numbers are in constant evolution since the creation of the platform a year ago. Today, we want to go further to offer better solutions.
You can start spreading the word, Call Up will be deployed in March 2020 and not just a little! We present you, in preview, the features that will be added in version 2 of the current platform.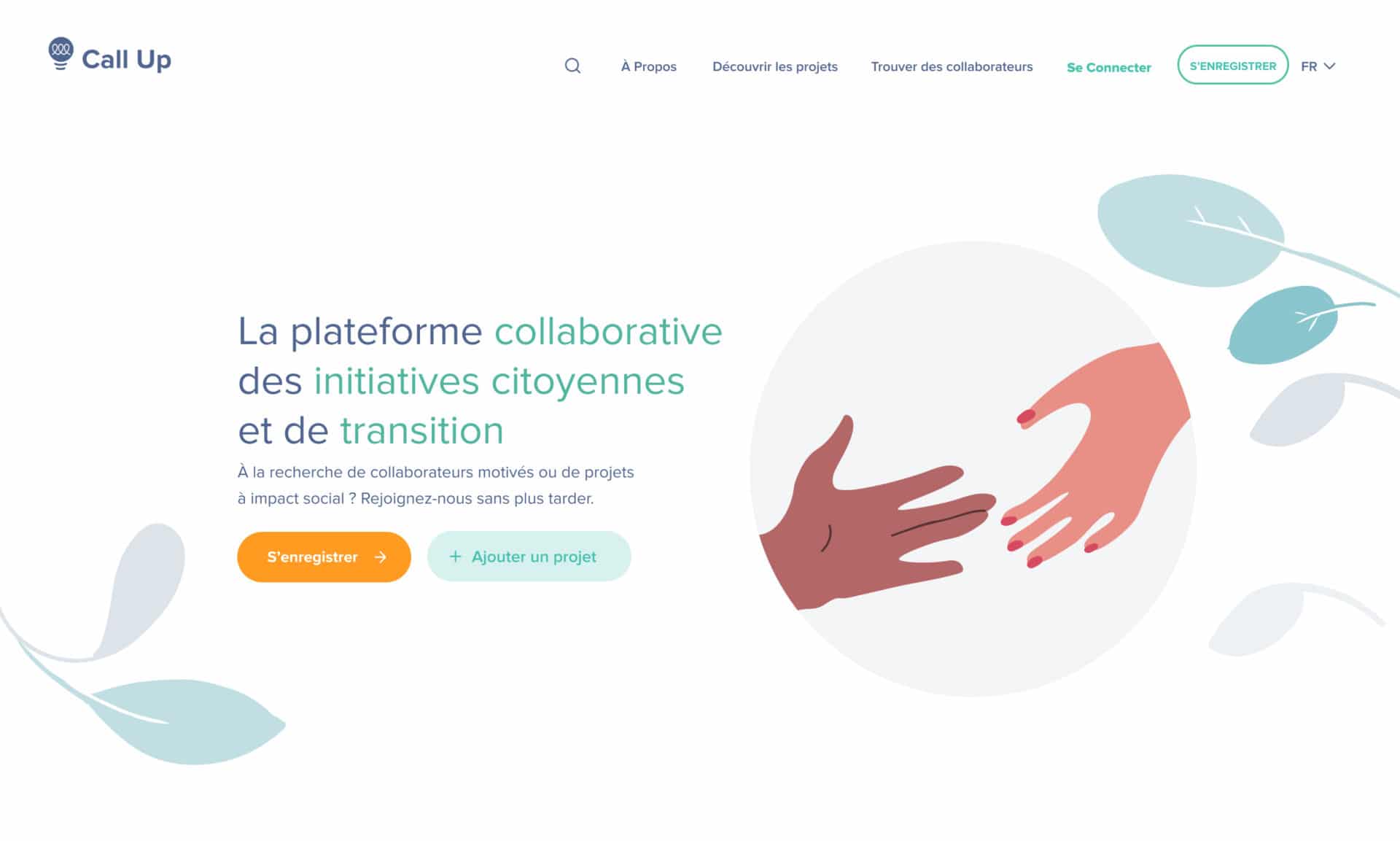 To perfect Call Up, we have focused on 4 axes: 
Matching : Matching allows a connection between the different profiles thanks to a unique algorithm based on tags, projects, but also, on proximity to encourage local initiatives.
The Financing : Financing systems will be integrated directly into the platform via an innovative system in the form of likes. This will provide the means for ambitious projects to take shape and to be informed of the latest developments.
Automation/Coaching: This is a unique civic training program. We will provide access to key resources, documentation, but also to the expertise of our partners. All of this, accessible to all citizens to promote employment in the labour market.
Centralization: To simplify the management of a project. Management tools will be centralized and will allow an optimal follow-up on recurring tasks common to any type of project. (Write a newsletter, manage a website, follow up on social networks, etc.) We rely on learning from the achievements already present on the platform to avoid having to start from scratch on each project. This also allows us to make everything more dynamic.
We hope that Call Up will contribute to the preservation of the planet and to the emergence of numerous collaborations for sustainable development. With objectives that lead to an ecological and climatic transition. That this pushes citizens to take action, as is increasingly the case today with the hummingbird movement, which invites people to "do their part".
We want our impact to be concrete for societal, citizen, economic and ecological development.  
After a week full of emotions, meetings, advice, discoveries and much more, we returned to Brussels. 
We are more excited than ever and full of hope for the future of Call Up. 
What do you think? We are obviously eager for advice!
Contact us